It's beeeeen way too long so i decided to blog! This blog is going to be heaps photo heavy!
So where do i start?!
Last Thursday, Lorenzo & I went up to Chatswood to Daiso! I feel really sorry for him cause i think i was a bit demanding at the fact that i asked for a really big favor of him to drive me all the way there on a busy shopping late night time. (Never again will i let him go through that pain just to make me feel happy LOL - I know his my bf and all but i felt so slack!)
But anywho, the traffic was horrible and on Google maps it was supposed to take 50 minutes (probably without traffic) but with my very keen intention to get out of the house - it freaking took us an hour and a half to and back home so.... 3 hours gone? I don't know - wasted so much petrol and definitely better if i caught the train there. ANYWAYS! We got to Daiso and planned to go to Westfields Chatswood for some shopping but i got an unexpected phone call from Student Marketing and actually got called in for a second round interview in January. Basically just work around campus for the first 2-3 weeks of Semester 1 at UTS. But not sure if i'm going to take it since i've recently got offered a new job! (More details later)
All was interrupted as we were lost at Chatswood and also trapped in horrific peak hour traffic so we just decided to go home after Daiso. I think we spent a good 2 hours in there and parking costed us $21. I was no happy with the outcome of this trip because i went into a private car parking place which charged like $5 for half an hour... Um yeah, NOT COOL. When if we drove probably 200m's down (and being the asian that i am) we could've saved $21 and parked for free.......... SO PISSED OFF. But basically we just got to Chatswood just for this store LOL - not happy.
Anyways! So here's some goodies i got from Daiso - if you don't know what Daiso is it's this Japanese store which sells everything for $2.80. Google it :D
Blotting Papers. THESE WERE SO GOOD I only bought one cause i didn't think it would be that great.
Don't underestimate Japanese Quality. It beats Chinese Quality (Sorry!)
This rather unique air freshener thingumabob.
This is like a pore strip but in a squeezy pack. That applies on like glue... and you peel it off..
I thought why not try it, its probably easier to use then the normal pore strips and also it's japanese.
Don't buy this LOL but i'll probs use it around my face as a face peeling mask or some shizzle. LOL
Bought 3 of these storage shelf thingys so i can put my make up and all my other essentials in my room.
ALL CHEAP STUFF LOLOL. Pretty much my trip to Daiso last Thursday!
Moving on! So on yesterday, i went to North Parramatta and i scored an interview with Triple A Marketing. And yes, i got the job! I wasn't planning on taking this job but since MEA has no shifts for me this year and also its casual i might as well try another Marketing agency and earn some extra cash while i wait for shifts to come up from them. So at the interview i obviously said the biggest bullshit and probably disguished it with my 'so called sophistication of speaking' i don't know how to explain it but the director said i was 'Fantastic' and that it's 'What they're looking for' which was surprising cause i literally thought i wasn't going to get the job. But meh!
After that i headed to Westfields and browsed around Myer for a good hour in the makeup section deciding what to get for Christmas.... for myself... LOL. After much debating on lusting over for a new mascara I came to conclusion that i really want Diors Iconic Mascara. I think i've been eyeing it for a whole year now and... i finally and got my hands on it ... ish. LOL. (Only because I told Lorenzo to get it for me for Christmas!) HEHEHEHE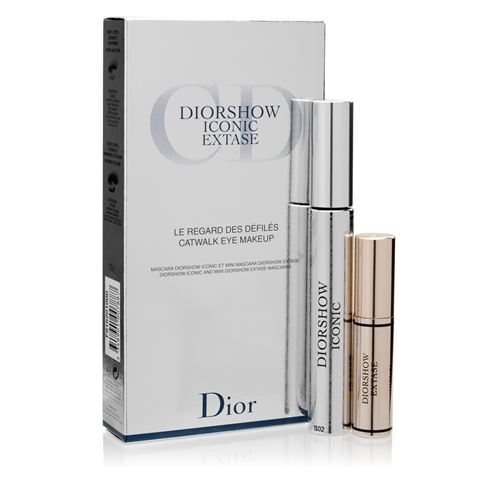 This baby cost $52 by itself but at Myers & David Jones you can get both the Iconic and the Extase in a gift pack for the same price.
After discussing my cluelessness to what to get for Lorenzo for Christmas we decided to set a budget (which was $50) on what we should buy each other. I already bought him a pair of G Star Raw Slip On Shoes from ASOS and i'm pretty sure i ordered them a bit too small - so i think i have to return them in order for a refund. I also got him another present along with the shoes (but i will not say it because i know he might read my blog and then it will ruin the surprise - because i have the tendency to ruin surprises LOL)
Anywho! After spending so much time at the Lancome Counter trying on Hypnose Doll Eyes I was disappointed that Hypnose does not provide what it does for my short lashes and they tend to droop.
I was at the MAC Counter trying on their foundation for quite sometime cause i needed something light, not heavy and provide a natural look. The
MAC lady recommended this!
MAC Studio Moisture Tint in Medium Dark - $48 AUD
It was perfect! It feels so light and like its soft and it doesn't feel icky like normal foundation. I managed to get a sample of it in a MAC Jar, it was soooo cute!
So after deciding on getting new foundation. I thought, maybe i'll contact my cousin from America to help me out! I didn't want to trouble her but she offered to help me out, so I managed to order some MAC from America!
Along with my order... i ordered MAC's famous Fluidline Gel Eyeliner and a Liquid Eyeliner Pen since i really hate my Maybelline one.
I saved like heaps! And in return for helping me out with shipping i'm going to buy her something from Australia and after showing her my Australian branded make up that i own, she wanted me to get her
Australis Colour Inject Lipstick
in Mambo. Which is very similar to MAC's
Blankety
Lipstick. I know in America they have heaps of Lipsticks but i thought i'll get her something Aussie. Anything else you guys suggest i should buy as a souvenir?
Anywho, I've spent sooooo much lately with all the pay i got from work, there will be more pictures soon but i can't be bothered posting them all right now. I think this is enough for my blog for now. I got much more and i don't think i can cram anymore so... MORE COMING SOON!!!!!
Love, J.