I bought this recently, i think it was last week? And i've been using it this throughout this whole week. I'll keep it short and snappy and get right to the details and not go on and on.
I've never tried a BB Cream ever so this is my first. I'm not 100% sure how BB Creams work, but from what i've read it is a Blemish Balm and also does more than what a foundation does. (I'm so noob at this)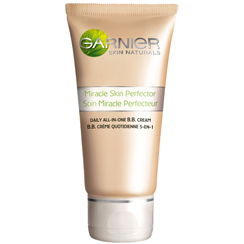 Garnier says:
When it comes to the face, women have multiple and specific needs: they want to moisturise, even complexion, correct blemishes, brighten and boost skins glow and protect from the damages of UV.
Australia's 1st BB Cream by Garnier, new Miracle Skin Perfector is the ultimate daily all-in-one solution for instantly flawless, healthy glowing skin.
1 PRODUCT, 5 INSTANT BENEFITS.
Garnier introduces a new generation in skincare that combines the best of skincare with the benefit of make-up in 1 product to deliver 5 instant benefits:
1. Hydrates for 24hrs
2. Evens tone
3. Corrects blemishes
4. Boosts healthy glow
My thoughts:
So i got my BB Cream in Light and for a reference I am a MAC NC25. It's a bit of a love/hate situation. Why? I love how it's so affordable and how it delivers what it says (those 5 points above) but I'm still having mixed thoughts about it. I'm so loyal to my MAC Foundation (which roughly cost nearly $50AUD) yet, I felt like this BB Cream outweighs my MAC at first. But this being only $7.99AUD ($13.99 RRP - but I got it on sale for $7.99) it's pretty good for that price!
Pros:
I love how it's lightweight on my face and not heavy unlike my MAC foundations where they feel a bit cakey on my face when i haven't even applied that much foundation!
I do believe it DEFINITELY evens the skin tone and does correct blemishes and conceals my dark circles pretty well under my eyes (which surprised me) in which other Foundations wouldn't really do that (hence why it's a BB Cream, i suppose)
Cons:
I didn't really notice much of a healthy glow... seemed a bit normal to me.
I do feel that overtime this BB Cream makes me look cakey cause of the sweating and... natural flush.
During the day, I found that when I wore this BB Cream from 8.30am til 5pm (Mind you, it was 28 degrees in Sydney and i was travelling all day from the City to Home) I literally felt like the BB Cream was melting off my face and also mattified my face in a weird way making my face look just horrible.
It tends to make make face really oily (and i have combination type skin)
Overall, I don't think it's that bad of product - unless you use it during Winter. I wouldn't recommend wearing this during where you would be most likely to sweat and get hot (but who can control that?!) and especially in any weather where you would be exposed to the sun for long periods of time.
With all my foundations, I set it with my Australis Pressed Powder or my Translucent Powder which it holds well. Since i'm not the type of person who doesn't constantly reapplies foundation or brings it along with me occasionally (once i leave the house - that's it! I only carry eyeliner and mascara!) I don't think it's nearly as great as my MAC.
I don't know if this because it is a BB Cream but it's pretty comparable to any foundation on the market. I love how my MAC stays put for longer periods, when this tends to run down my face when it gets hot. Overall, i think it's a great double up to Concealer so i probably be mixing my foundations with this BB Cream.
I've tried my best with this review since i've never used any BB Cream products ever. So i hope to the best of my ability that this review is somewhat helpful.
Love, J.