Since i've feel so much better after taking probably a cocktail of tablets. I can probably say (i'll try not to jinx it) that i feel so much better! Nevertheless i'm excited to do a quick review seeing that my blog feels a bit empty and also show my current favourite face mask products!
Here i have my favourite two The Body Shop Face Masks that i've been using lately. The first one Seaweed Ionic Clay Mask - I've recently received a sample of it (and i will definitely buy the full tub!) and also the Tea Tree Face Mask that i've been using for almost 2 years now! The Body Shop is known to be a business that supports Fair Trade as well as supporting small communities in disadvantaged countries. All their products are organic - meaning no harmful or harsh chemicals for us! They also are against Animal Cruelty and Testing! What i'm loving right now is this mask...
The Body Shop Seaweed Ionic Clay Mask - $28.95AUD
For Combination/Oily Skin
A deep-cleansing mask treatment with algae extracts and combined natural ionic clay action to draw impurities from the pores and absorb excess oil. Enriched with minerals to condition and revitalise the skin.
What i love about this face mask is that it gets rid of my blackheads (it won't completely disappear on the first time but eventually it will of course) it also gets rid of the really greasy excess oil that you have on your face.
For me that's mainly my forehead and it's stupid because my forehead would get really greasy and that was because i had a fringe - now that i have not had a fringe for the past year (as in, i've been splitting my hair cause i seriously can't be stuffed with a fringe) it's been less greasy but meh. LOL enough about that.
I love how it smooths out my skin and it's just feel ultra soft to touch. I'm madly in love with this product and so glad the lady at the QVB Body Shop store gave me heaps in the sample tub i requested!
It's great for anyone who has combination skin like me! If you're skin is dry - it will replenish it and feel as smooth as a baby's bum. Oily? It's wonderful! It controls it! Overall, i think it's a great all rounder face mask. Hands down. Just apply this on (i use a old foundation brush) and then leave it on for 10-15 minutes and rinse off.
Like me, if you're skeptic about purchasing this product (for me it was the price i was like... hmmm is it worth me working out $28.95?) i asked for a sample - depending on which The Body Shop you go to, they will give you a decent amount for you to try. I've used this twice a week and my skin feels really great and cleansed! Though this maybe pricey but i guarantee you'll be keeping it with you for a long time!
The Body Shop Tea Tree Face Mask - $18.95
For Oily/Blemished Skin
This instantly cooling mask helps to remove impurities and absorb excess oil whilst soothing and calming blemish prone skin. Skin is left feeling deeply cleansed, calm and refreshed
I've had this for over 2 years now! I bought this at Melbourne and i must say i had ups and downs with it.
It's great as a instant refresher to your skin, sort of like a nice cold tingle after you wash it off - which feels really nice. I used it today before i went into the shower and the good thing about it is that if you have oily skin it will absorb the oils (even though it does not say that there) but also, any red spots or pimples - it will decrease the appearance of the redness on your face.
The added bonus (like i mentioned) is that it gives this refreshing and cool feel when you wash it off! I love to use it around my under eyes and all and when i wash it off it just de puffs my eyes and feels so freaking awesome! LOL
Though the downside do this is that, it's not really suited to my skin because my face isn't that oily and using it more than twice a week or if you have sensitive skin will probably dry your skin out due to the fact that it contains Tea Tree Oil. Overall, i love it as a refreshing mask and also just to temporarily 'erase' red spots and blemishes on the skin.
Moving onto another face mask i also use for just dry skin overall... is this Skin Food Face Mask which i bought on eBay. Skin Food is a Korean brand and i have a Skin Food Waterproof Eyeliner and that is just the best eyeliner i have owned so far. Ever since Covergirl discontinued their Waterproof Crayon Eyeliner i've been searching everywhere til i found this Skin Food One. Now their Skin Masks are just as great! The seller who i purchase this off was on eBay and from Korea. They sell all Korean Cosmetics and Skin Care products and i happen to try this one! I've had this for a while now and finally i'm going to review it.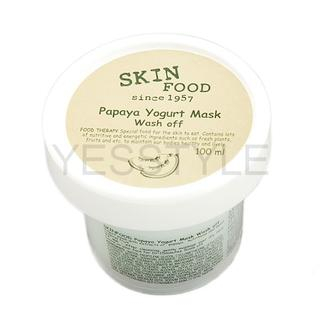 Skin Food Papaya Yoghurt Mask - $13~AUD
For Dry and Blemished Skin
An effective skin exfoliant, papaya gently removes dead skin cells to reveal radiant and luminous skin. Also enriched with vitamins and yogurt, Papaya Yogurt Mask Wash Off nourishes skin while it evens out skin tone for a noticeably brighter complexion with an attractive glow.
I gotta say i was sooooooo addicted to the smell of this mask. Not only was it natural, but also it was made from Papaya! I use this mainly when my face feels so dry and i just slug it on my face - leave it on for 10-15 minutes and rinse off. It's super moisturising and i feels like my skin has soaked in all that goodness and basically have just ate the mask... i can't explain it just soaked so well - basically my face has just been rehydrated! I love it!
Overall, i can't find any distinctive cons. I mean these face masks say what they do and they do what they say. The best thing is obviously choosing the one that is suited to your skin type :)
Hope you found this somewhat helpful and hope to be back with more things to share with you!
Love, J