BEFORE ENTERING, PLEASE READ THE INSTRUCTIONS OR ELSE YOU WILL BE DISQUALIFIED.
Some people have been entering but have not evidently doing the required instructions.
ie. clicked 'like' on facebook but clearly have not liked the page or 'follow the blog' and have not followed the blog.
People who are misleading entries are automatically disqualified.
So I'm making a favourites giveaway... Why? Because I shall be giving away my favourite items! I'm feeling generous considering that I nearly have 100 Likes (Currently on 85 Likes on my Blog's Facebook Page - Thanks for all of those who have liked my page!)
Also, the support of my friends who helped me get my business cards together as well as helping me find items with the design and tweaks and etc with the blog. And finally, sharing my passion and also loving the fact that people admiring and also always coming back to my blog. Asking me in person and also emailing/facebooking me about beauty questions! I'm not a guru or professional but I appreciate all the love and support everyone has shown for me!
Due to the lack of minimal entrants for the last giveaway I decided that this giveaway would be a huge eye opener and also something a lucky reader would love. Obviously, these are my favourite items I reach for nearly all the time! I realised I had some dupes and extras as well as things I got on sale which I would chuck into this giveaway!
Considering how much I love my followers as well as you, taking the time to read my blog as well as admiring and also keeping up to date with it. This is my present for you!
1st Prize will be my essentials favourite set!
Worth nearly $60 altogether
Containing:
Sigma Sigmax Brush Set of 2 - F84 & F82 Brushes (mentioned
here
)
Essence Concealer & Silky Touch Blush (mentioned
here
)
Lush R&B Hair Moisturiser (mentioned
here
)
Face of Australia Lip Quench Lipstick in Lychee Crush
Puretopic (Organic) Hand Cream - I don't use this but since I'm not doing anything with it. I'll chuck it in this giveaway
2nd Place Winner will get this set of Face of Australia Barbados Nail Polishes (mentioned
here
)
I bought two of each of these after I blogged cause I knew I needed to do a giveaway with these, so now they come to use!
3rd Place Winner will get these two lovely Essence Concealer and Blush (mentioned
here
)
Obviously, there will be ONE winner for each of the items listed here.
The Terms and Conditions are as followed in this Rafflecopter widget.
YOU MUST BE A FOLLOWER TO ENTER
and for this entry to go ahead there needs to be 30 Unique Entries or else it's kinda of pointless and not enough people are not entering and etc.
You can only do 3 of the requirements listed.
ie. 1 Requirement: Follow This Blog, 2nd Requirement: Comment,
AND
(CHOOSE ONE OF THE FOLLOWING)
3rd Requirement: (Tweet, Sidebar Banner, Like on Facebook etc)
People who do not furfil this requirement will be disqualified. So far there have been people who have entered all and only 3 will be selected.
This Entry Finishes on 31 July 9pm EST (Sydney Time)
This is open internationally.
~
If you would like to score an extra +3 Entries, Add this Image to your Blog (Sidebar) - It must be visible and will be check or else your entrant for this will be disqualified.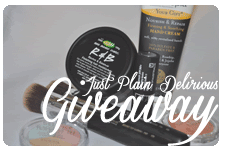 ~
GOOD LUCK
Love, J
Disclaimer: Items that are displayed in this giveaway are either gifted, sponsored, reimbursed or bought with my own money. In no way am I paid to advertise or promote any products mentioned. For more information see my disclosure policy.